May 2012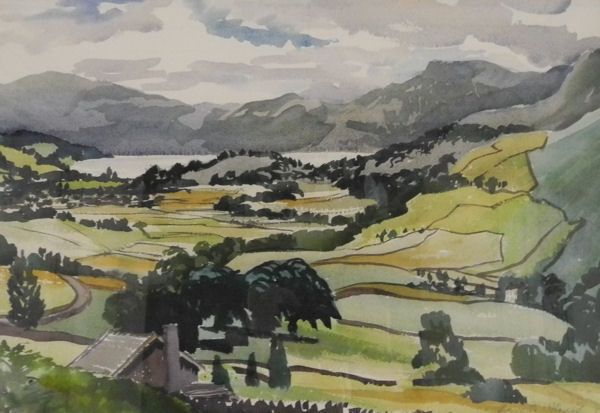 This lovely water colour of a Cumbrian Lakeland view hangs in the Lounge of Rydal Hall, the Diocese of Carlisle retreat centre, in the hamlet of Rydal, between Ambleside and Grasmere on the A591. The Continuing Ministerial Education group of Connor Diocese recently made their annual retreat there. The Retreat Leader was Rev Jonathan Carmyllie, Team Rector of the Parishes of Astley, Tyldesley and Mossley Common in the Diocese of Manchester. Among other things, he encouraged us to reflect on how an everyday object might serve to connect us with God. The picture above was on the wall directly facing me, and in the silence that followed, my eyes focussed on it
It is a peaceful scene, with rolling pastures of many shades of green, directing the viewer down a broad valley .to a lake of still water and the high Pennines beyond. It is very typical of many Lakeland paintings. It includes traditional Cumbrian stone walls separating the fields, the blue sky is partially obscured by fluffy white cumulous, there are various trees scattered around and there is a little cottage right in the foreground. I couldn't help thinking that both God as Creator and Human as the appointed Gardener had both done their jobs well. And of course those familiar words from Psalm 23 came to mind, "He makes me lie down in green pastures / and leads me beside still waters" along with these perhaps less familiar words from the Benedicite, "O let the earth bless the Lord / bless the Lord you mountains and hills / bless the Lord all that grows in the ground / sing his praise and exalt him for ever."
And I was reminded that Human has been given responsibility to care of all of the earth and not just pretty valleys in the English Lake District. Perhaps a Lowry painting of industrial Salford would also remind us of this.
And as I continued to gaze on the painting, and reflecting on what I had seen while driving around the countryside, it occurred to me that something might be missing from the picture. I see no sheep in the fields or on the fells. Did the artist just ignore any that were there? Or were there none in this view in the first place? Well I can't ask him or her, but the question in my mind recalled the story told by Jesus of a shepherd who left his flock to go looking for a lost sheep, and of the rejoicing when he found it.
We are God's sheep and Jesus is our shepherd. He seeks us when we are lost and rejoices when we find one another.
NOTE - Previous "Monthly Messages" are archived at http://glencairn.connor.anglican.org/previousmessages.htm