December - 2011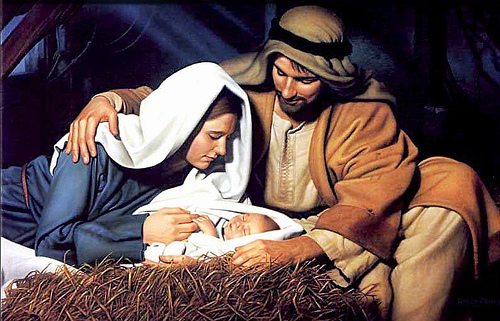 "Advent tells us Christ is near; Christmas tells us Christ is here"
27th November 2011 was the First Sunday of the Season of Advent, commonly called Advent Sunday. It marks the beginning of the Church's liturgical calendar. In some respects it is a bit like 1st January - the secular New Year - when we tend to look back over the year just passed and to look forward to the year just beginning. The Romans named this first month of the year after Janus, a character in Roman mythology who was the gate keeper to the new year. He was depicted as having two faces, an aged one looking back and a fresh one looking forward.
In Advent we also look back and forward. We look back to the Incarnation, the birth of Christ, the remembrance of which we celebrate at Christmas. But we also look forward to the Second Coming of Christ, when, Christians believe, he will return to judge all the people who have ever lived.
What does this mean? We need to start to the beginning with the Creation. God created the universe including this planet Earth and everything living and growing on it. Humankind was given stewardship of Earth, but God set limits on their behaviour. Sadly men and women, given the freedom to choose, chose to ignore those limits and so were, and still are, disobedient to their creator. This "sin" is anathema to God and must be punished to preserve God's integrity. The trouble was, God loves men and women and wants them to choose to live. So, how can God preserve his righteousness and still bring about a reconciliation with his people?
Someone had to "pay the price" for sin, and God choose to do this in the person of God the Son. And so God the Son came to Earth, to be born of the Virgin Mary as Jesus of Nazareth. And this links the Incarnation with the Crucifixion and subsequent Resurrection of Jesus. God paid the price! Without the Incarnation, the Crucifixion would have been meaningless.
Jesus taught that those who believed in him and confessed to him being Lord of their lives would be saved to eternal life. But he also taught that those who denied him would go away to eternal punishment. This is the Day of Judgement that we think about, particularly during Advent. This will hold no fear for Christians!
The Advent Collect is a useful prayer:-
Almighty God,
Give us grace to cast away the works of darkness
and to put on the armour of light
now in the time of this mortal life
in which your Son Jesus Christ
came to us in great humility;
that on the last day
when he shall come again in his glorious majesty
to judge the living and the dead,
we may rise to the life immortal;
through him who is alive and reigns with you and the Holy Spirit,
one God, now and for ever.
Amen
Ken
28 November 2011
NOTE - Previous "Monthly Messages" are archived at http://glencairn.connor.anglican.org/previousmessages.htm