St Andrew's Church, Glencairn - page 2 of a commentary on the building, its fixtures and furnishings, as illustrated in the Visual Tour of the church.
[Click on a thumbnail to transfer to the corresponding larger image in the "Tour". Use the "back button" on your browser to return to this page.]

The east wall, behind the Sanctuary is faced with wooden panels, and the central panels are carpeted to match the floor carpet. A large cross is fixed to the wall. To either side there are two banners celebrating Easter and Pentecost.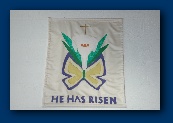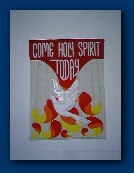 The Easter banner was created by Lil Gould, Church Warden and professional seamstress, while the Pentecost banner was created by Hoi Hoi Teh. Both were commissioned by the Select Vestry in recent years. (The Pentecost banner is not shown in some of the east wall photos as its wall space is sometimes used as a projection screen.)
The Chinese pulpit fall is a gift from our Crosslinks mission partner as is the "John 3:16" banner.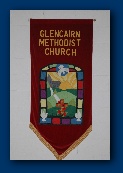 The banners on the north wall were created by Mave Glenny. The one on the left was commissioned by Rev Mervyn Kingston in 1990, as a parting gift to the church. The embroidered inscription on the back is, "To The Glory of God Presented in Memory of Sheila Ruby Kingston, 30 September 1990. The one on the right was commissioned by Shankill Methodist Women's Fellowship and was a gift to St Andrew's. The banners complement one another and remind us that we are a joint church and a joint Methodist - Church of Ireland congregation.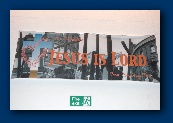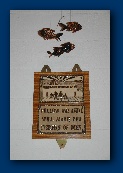 The "Jesus is Lord" banner above the west door is the gift of a group of young Chinese Christians who visited us for a week in the summer of 2001.
The wall plaque in the north-west corner was created by Don McBride (Cuchulaine Ceramics). It was commissioned by Rev Walter Lewis in 1984 as a parting gift to St Andrew's. The fish mobile was purchased in the Holy Land by Rev Mervyn Kingston and given to the church.
More information to follow soon!